Rocket Broadcaster 1.1 Released
We're pleased to announce the release of Rocket Broadcaster 1.1! This update brings a number of new features, including support for VST plugins, support for High DPI / Retina displays, a master VU meter, auto-start on launch, and more!
PRO

VST Plugin Support

Process your radio's sound with your favorite effects and DSP plugins. Rocket Broadcaster now supports 32-bit VST 2.x plugins, the leading standard for audio effects plugins, and has been tested extensively with Stereo Tool, a broadcast mastering processor used by over 1,000 FM radio stations. VST plugin support is available today for all Pro Edition users, and if you're a Free Edition user, you can still try out VST plugins for 10 minutes at a time to hear how good your broadcast could sound.

Looking for some good VST plugins to try out on your station? Check out our list of top VST plugins for radio broadcasters.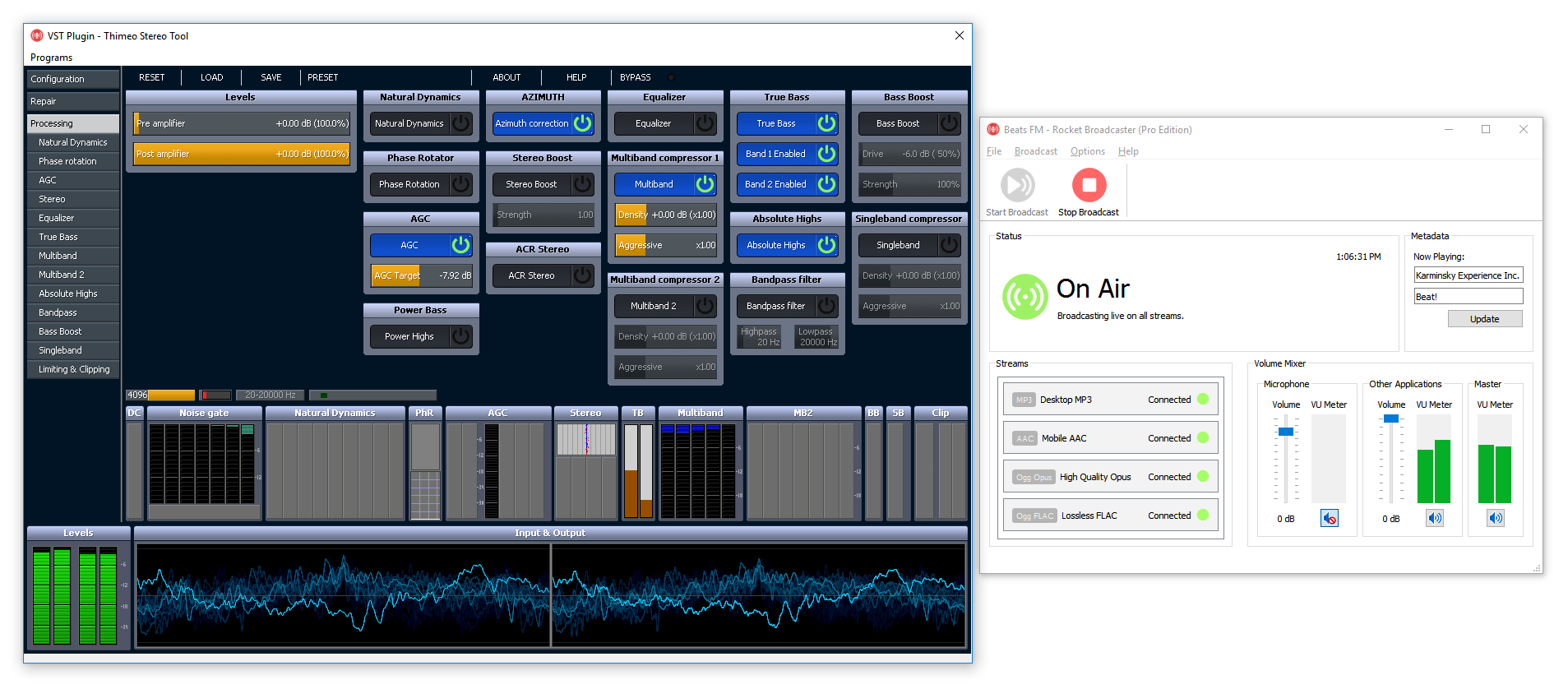 PRO

Auto-Start Broadcast on Launch

Professional broadcasters running Rocket 24/7 or in Windows server environments can now automatically start broadcasting each time the program is launched. An option is available in the preferences to toggle this behaviour.
High DPI / Retina Display Support
For Windows users with high resolution displays and display scaling, Rocket Broadcaster now looks better than ever with improved visuals and High DPI support.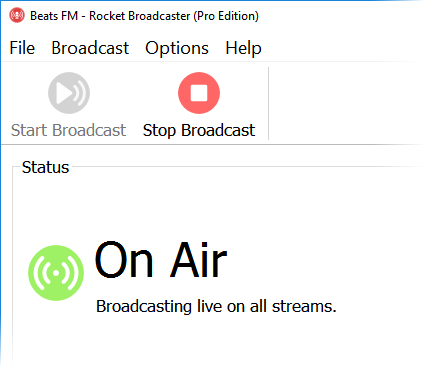 Master VU Meter
To help you visualize the effects of a VST plugin, Rocket Broadcaster now includes a master VU meter. For example, if you're using a compressor/limiter VST plugin with sufficient makeup gain, you should be able to see your master sound levels peaking near the top more often. You might also notice there's a small (~100ms) delay between the input and master stages in Rocket, and this is due to the input and output processing being fully decoupled and protected with extra buffering, to enhance streaming stability.
Other Tweaks
Increased the default buffer size to 2048 samples, which improves performance on older PCs.
Added extra buffering to "Other Application" audio capture, to improve stability when your system is under load.
Fixed a rare condition that impacted stability at launch for a small number of users.
Download the Update
Free Edition - Download the latest update here!
Pro Edition - If you're a Pro Edition user, click the download link in your registration email again to get the latest update.
Lastly, I'd like to thank everyone who has submitted ideas or comments about their experience through our feedback form, or sent in an error report. I read every single one of these carefully, and features like VST plugin support were a direct result of your feedback, so please keep it coming! (And the error reports help me track down hard-to-find bugs too.)