The Best VST plugins for FM and Internet Radio Broadcasting
Tip: To load a VST plugin into Rocket Broadcaster, click the Broadcast menu at the top, and select DSP Effects->Open VST Plugin...
Stereo Tool
Stereo Tool is one of the most popular broadcast audio processors for FM and internet radio, and is our #1 top pick. It's available in several forms, including a VST plugin that brings world-class audio processing to Rocket Broadcaster.
Stereo Tool offers a comprehensive suite of effects that makes audio consistent, clear, and warm to listen to. It includes two multi-band compressors, stereo enhancement, bass enhancement, a fantastic graphical equalizer, automatic gain control, a noise gate, and much more. It also includes a unique "declipper", which restores detail in recordings lost by tracks being recorded too loudly.
The free VST plugin version of Stereo Tool plays a short message ("This sound is processed by Stereo Tool") every couple of hours, but this limitation can be removed by registering Stereo Tool for only €35. The registered version also unlocks the Advanced Clipper feature. For full licensing details, check out the Stereo Tool registration page.
Download Download the Stereo Tool VST plugin here (Windows, free trial with limitations. 32-bit VST)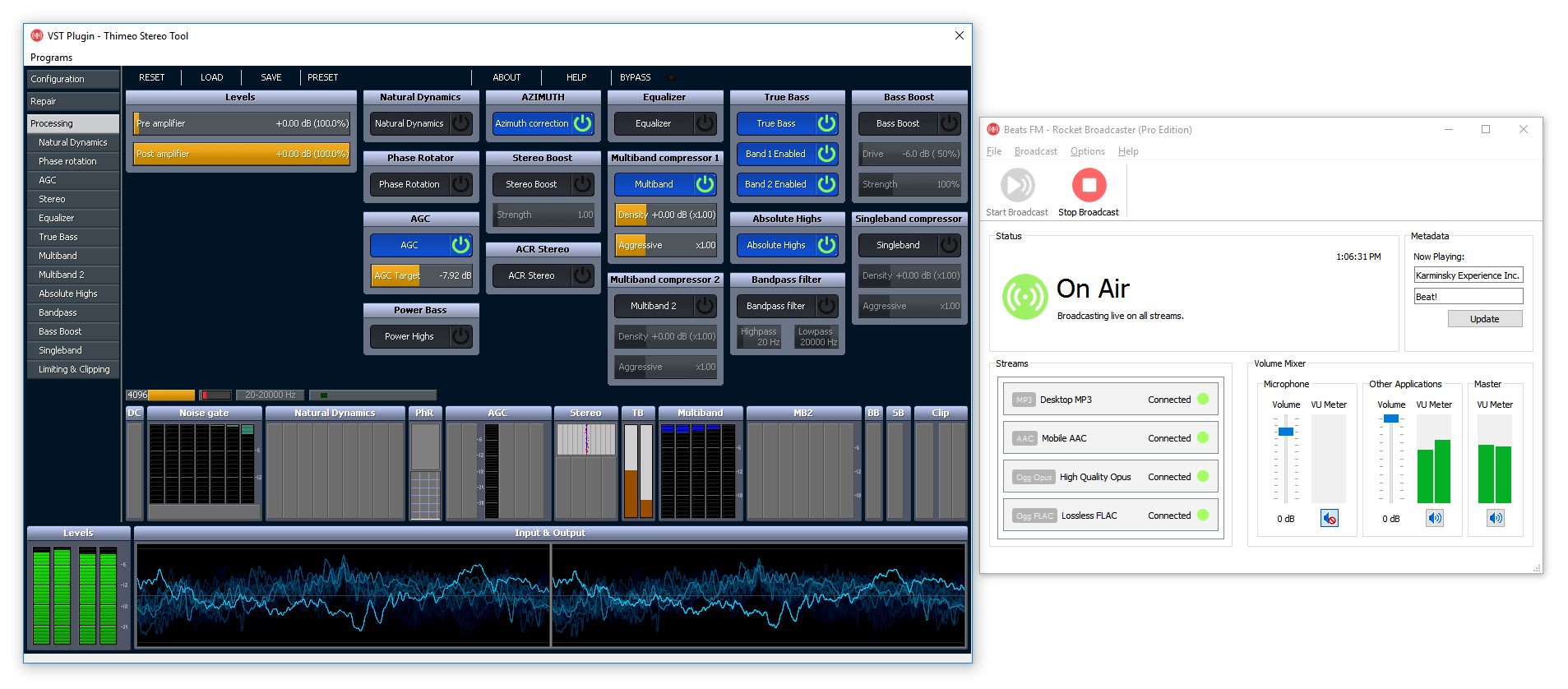 GranComp3
Free
GranComp3 is a relatively easy to use multiband compressor that helps smooth out the loudness of your broadcast. A multi-band compressor splits the bass, mid, and treble frequencies of your audio, applies dynamic range compression to bring them all up the same volume level, and then mixes them back together. The result is a more balanced equalization, and usually brings out detail that can be lost while listening at lower volumes. (As a broadcaster, you want to make sure your broadcast sounds good at any volume level, and on any set of speakers.)
To round out the package, GranComp3 also includes a peak limiter (to prevent clipping) and unique "SonicFilters" that add saturation/character to your audio.
We recommend GranComp3 because it's free, and offers a simple set of presets for mastering. If you're new to VST plugins, compressors, or just want a quick way to enhance your broadcast's sound, this is a great plugin to try.
Download Download GranComp3 here (Free, Windows) - Direct Download Link.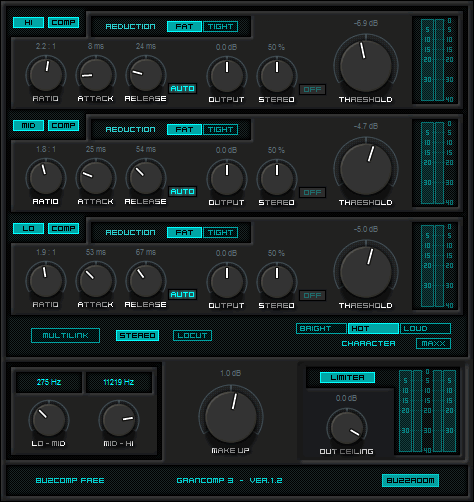 Other VSTs to Check Out
Terry West Productions - Terry West has a great suite of combined equalizer and compressor plugins.

Donationware

JB Broadcast - Jeroen Breebart's multi-band compressor design for broadcast, with stereo sub-band processing.

Free